For All Dairy Farmers & Dairy Service Technicians ...
Dont Spend $1000's Replacing Faulty Electronics In Your Dairy ... Until You've Read These Pages
DeLaval


EP Master Unit
These pulsation control boards do an amazing job ... running year after year ... with extreme reliability.
The usual cause of problems is when the rectifier supplying voltage to the board, fails.
This often burns tracks off the board ... and this is one job that most of your local techs can repair without much effort.

Occasionally though ... it also cooks some of the switching transistors and diodes etc ... and even though the damage can look pretty nasty ... it's usually fairly straight forward to repair and get back into service.
All parts (bar one) are readily available ... so again ... virtually all faults on these boards can be fixed. We are still working on that one elusive part and expect to be able to either source it eventually ... or if there is no other alternative ... create our own substitute to solve the problem.
Contact us if you have any questions about these boards ... or if you have one to send in ... download and fill in a Repair Form and send it in with the board.
If anyone has a spare ... or any faulty ones lying around that you no longer want ... we would be most interested in hearing from you.
EP Master Unit in it's case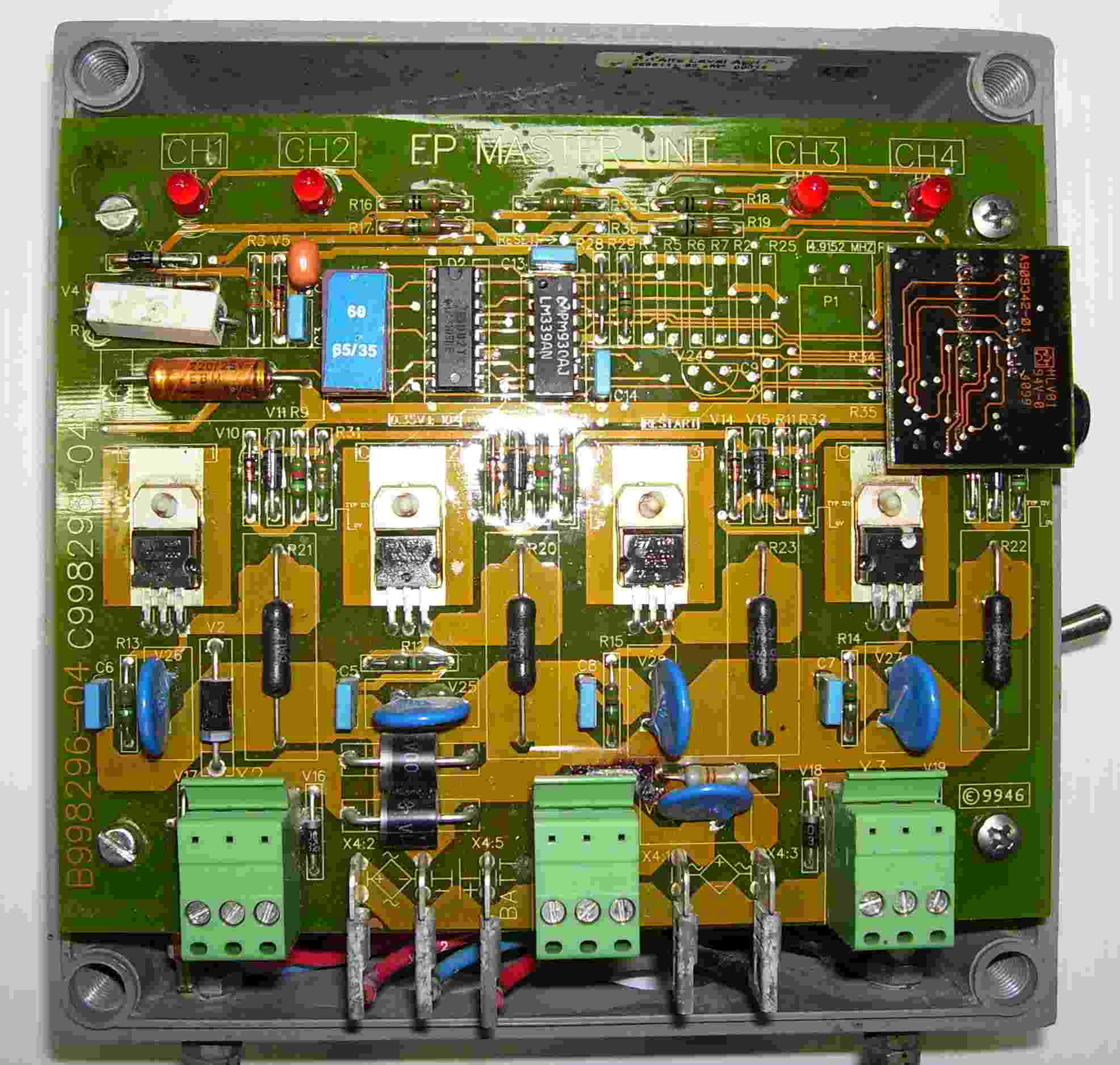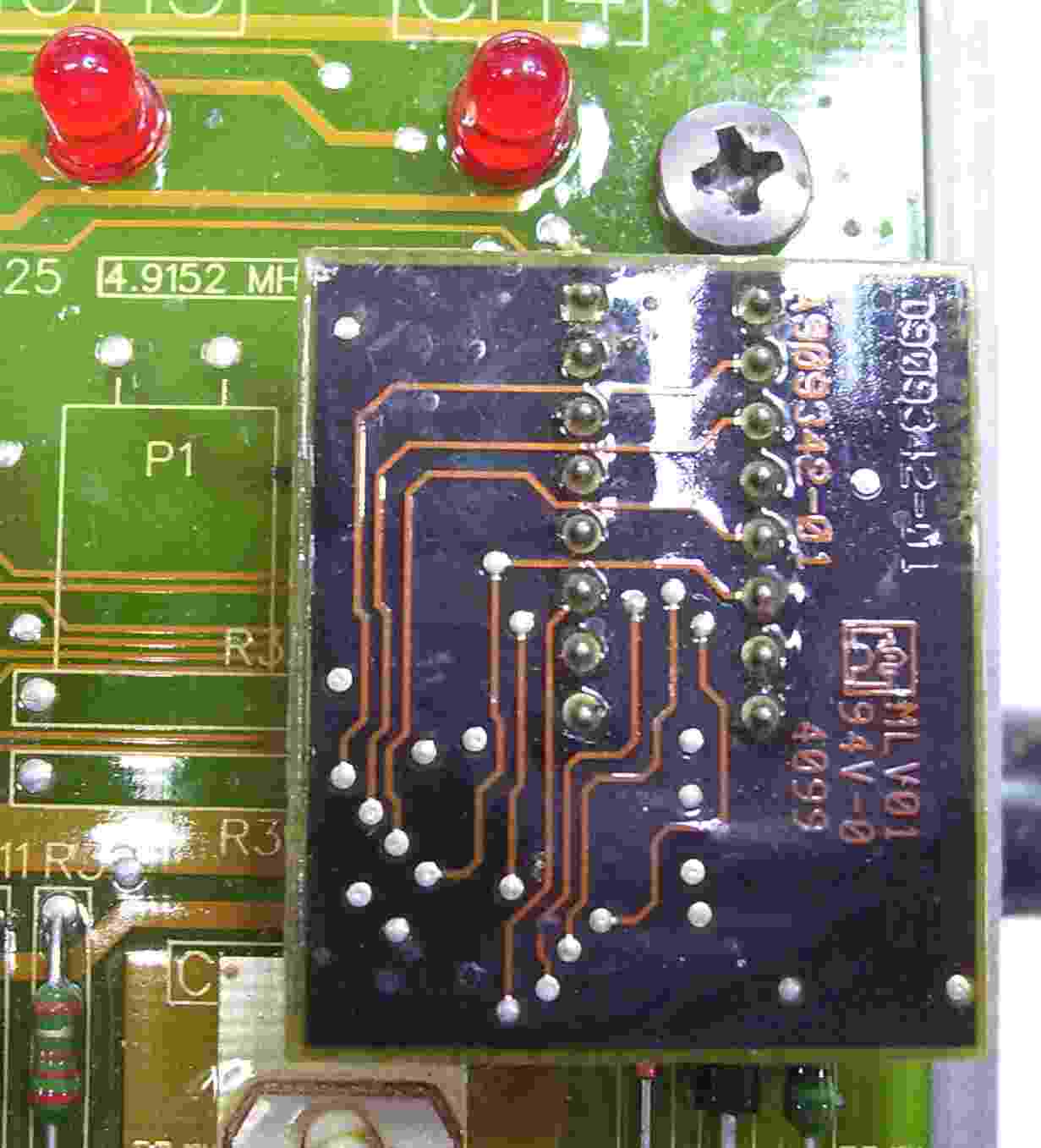 EP Master Unit boards ... note the alternative 'factory fitted' microcontroller device ... on top right hand corner of board
---
EL-ACR System
This is a fairly ancient system ... but there are still a good number around.
They can be kept going with a minimum of fuss, so if you are having trouble with any ... please dont hesitate to contact us.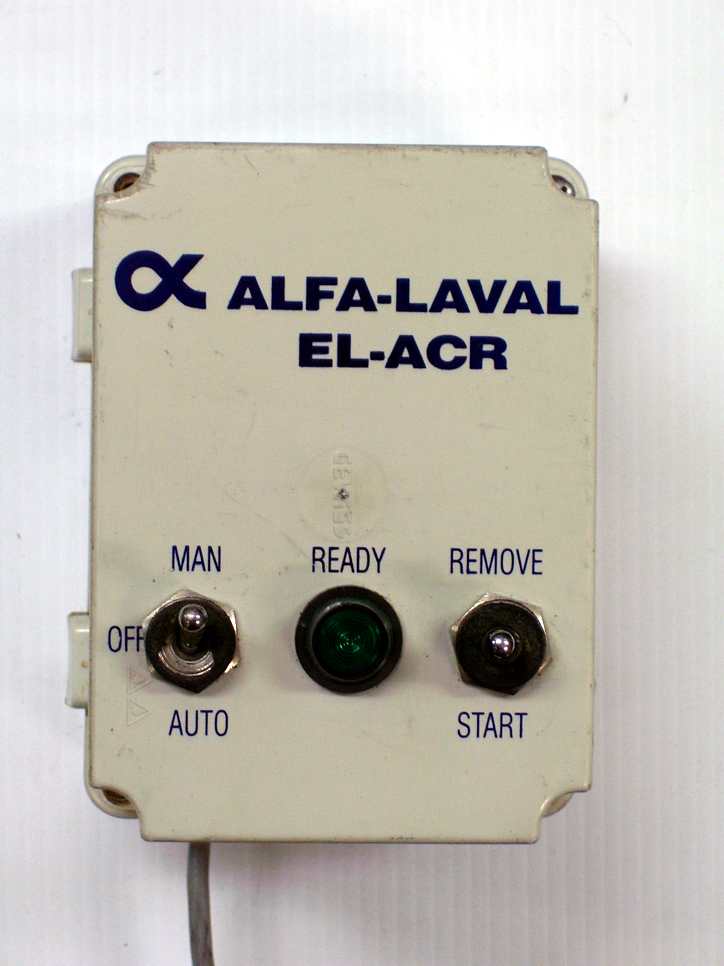 These photos show the control box and it's internals ... a disassembled module ... and a batch of newly refurbished modules
Old technology, with relays and basic electronics ... but still reliable if looked after.

---
ACR 5000 System ... ACR MP300's
These are probably the most widely used of the DeLaval automatic cup removers that we see.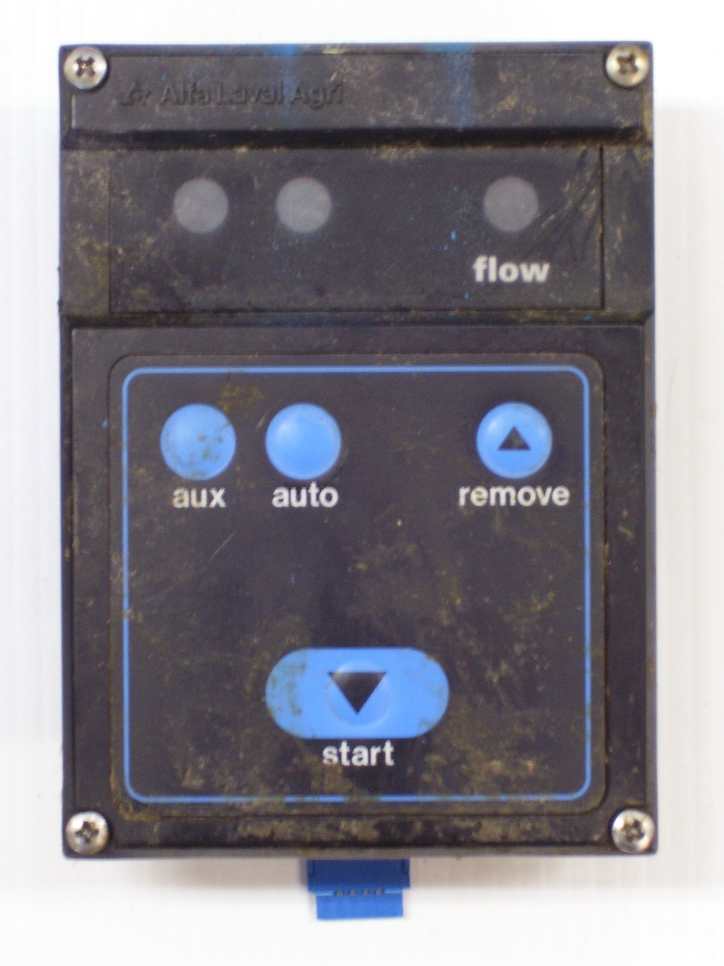 A fairly common problem is for moisture to get in between the layers of the membrane switches and corrode the tracks.
Not much can be done with these switch panels other than replacement.
The pcb's can generally be repaired, though ocassionally we see one where the microcontroller IC has failed ... and so far we have been unable to source any.
If anyone can help us with a supply of these microcontroller IC's ... please contact us by email or phone ... we will definitely make it worth your while :)
!!! News Flash May 2010 !!!
We've managed to solve our micro supply problem ...
we can now repair

100%

of these boards
... unless they are physically badly mangled or burnt.
So if you have a batch that have failed for whatever reason ... send them in for repair, and put them back into service.
A great idea we learned from one of our customers ... is to write the symptons of the fault (using a fine felt tipped pen), on the white ribbon connector between the two boards.
It is easy to do, and you dont need to worry about losing bits of paper or trying to remember what was wrong with each board.
The pcb's generally look aged and scruffy ... but that is mainly due to the insulation paint used on them, which yellows with age.
It does an excellent job of keeping moisture at bay ... just doesn't do anything for the appearance.
---
Milking Point Controller ... Alpro MPCII
These modules are only a few years old ... but are beginning to come in for repair.
They are a very sophisticated control panel, that can handle all the functions at the milking point ... pulsation ... Duovac
TM
... automated take-off ... milk metering, etc ... as well as providing lots of feedback for the user.
As with all other boards and panels found in dairies, external factors like damaged wiring, faulty pulsators, rats and mice, moisture etc ... can cause malfunctions on these boards ... as well as the occasional unit that suffers a component failure..

If you have any issues with these boards, please dont hesitate to contact us or send one in for repair ... and as with all the others ...
download and fill in a Repair Form and send it in with the board.

If you'd like to read more about the complete 'Alpro' system ... download this 14 page pdf article which explains all it's features.
Alpro ... MPC II ... Milking Point Controller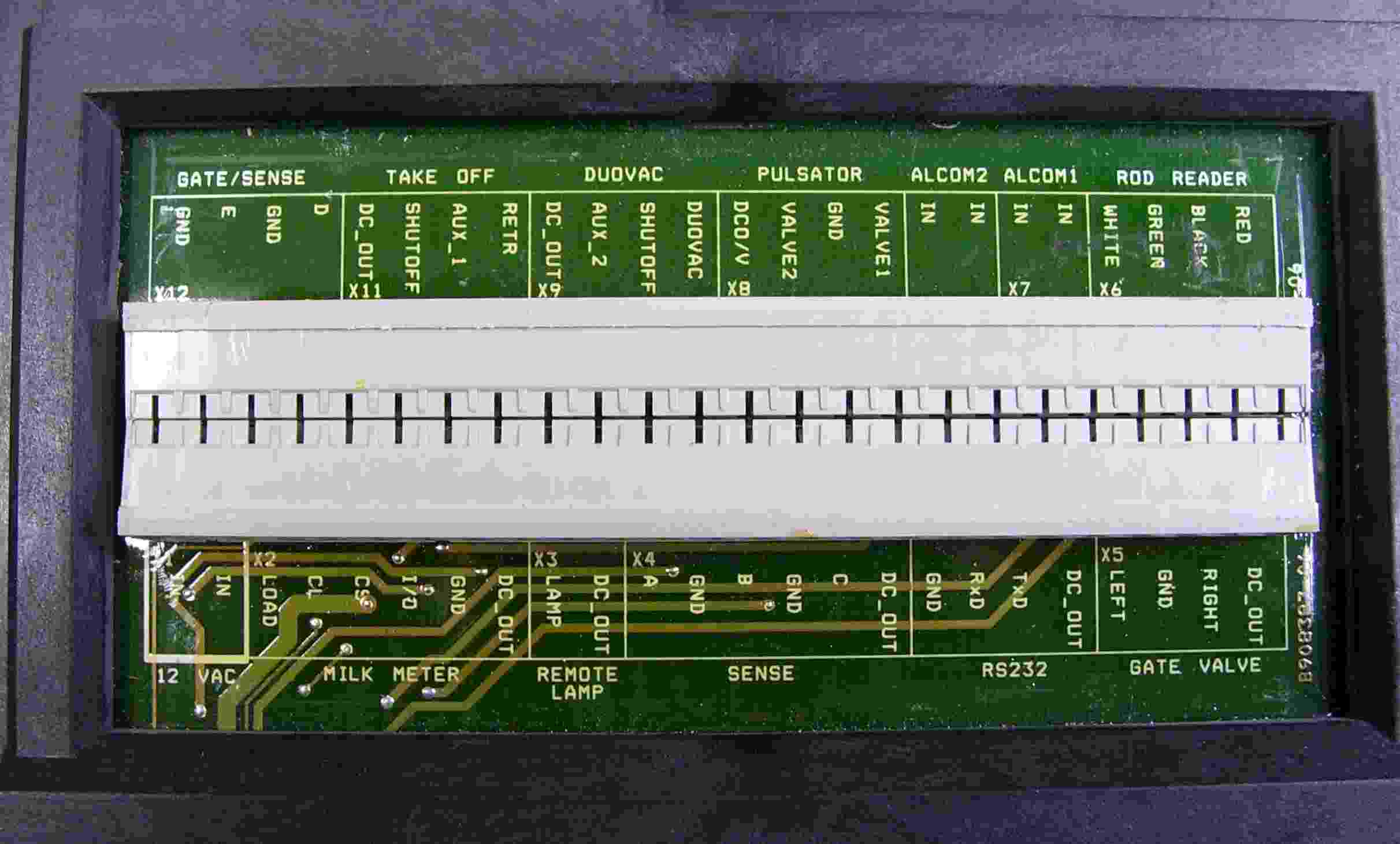 Alpro connectors
... on rear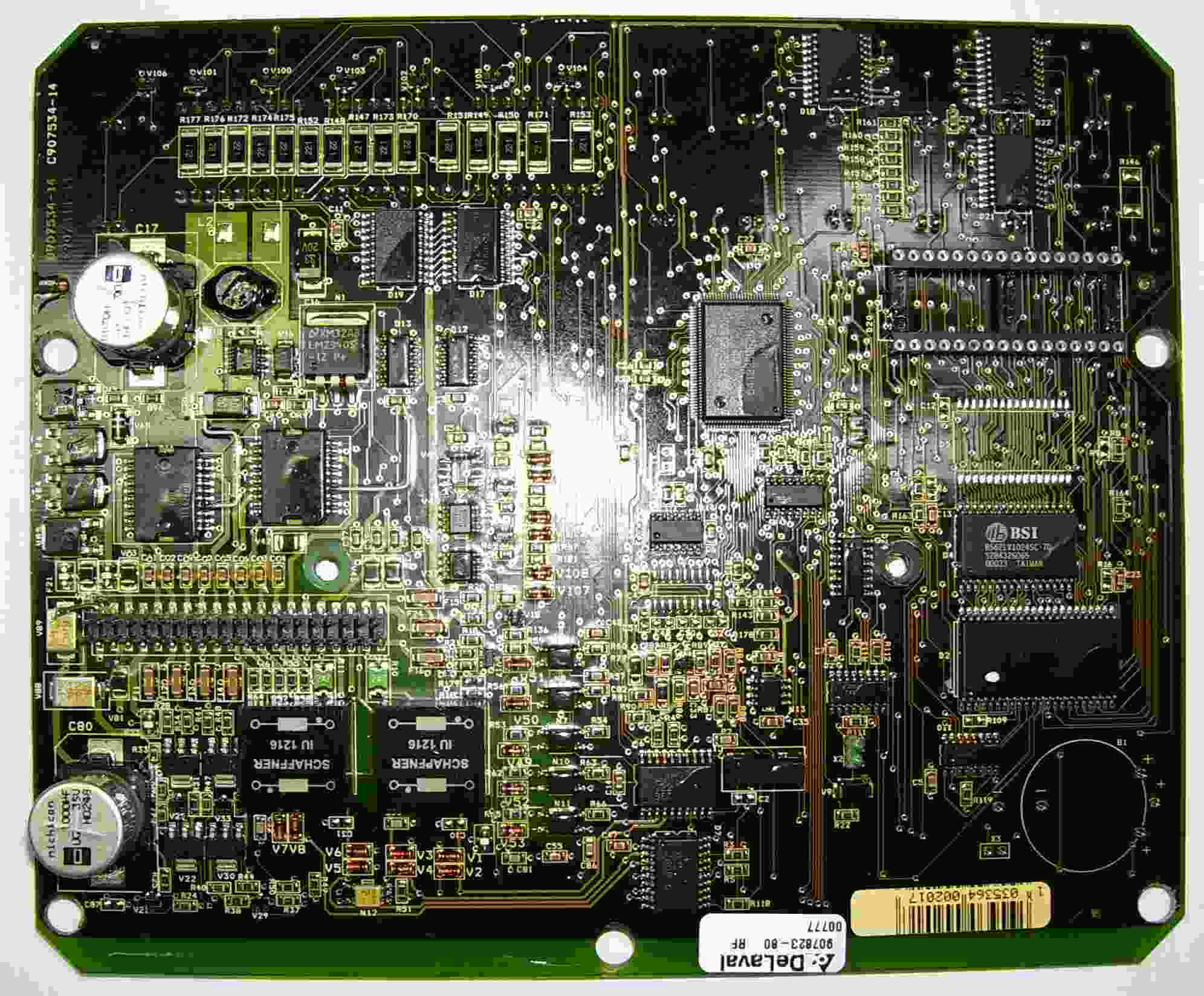 Alpro pcb ... front and rear view
---


DeLaval Alpro MPC with Corroded Rear Terminals



Here's an Alpro MPC with corroded terminals on the rear. Water has got in somewhere !!!




One pin has corroded off and the others look a bit green.

They dont look too bad, until you remove the sockets from the board ... and then you can see the damage that has been done.

Water seeps under the sockets and with current still flowing in the circuit, sets up electrolysis. That rapidly corrodes and eats away the pins and the copper tracks, causing all sorts of faults.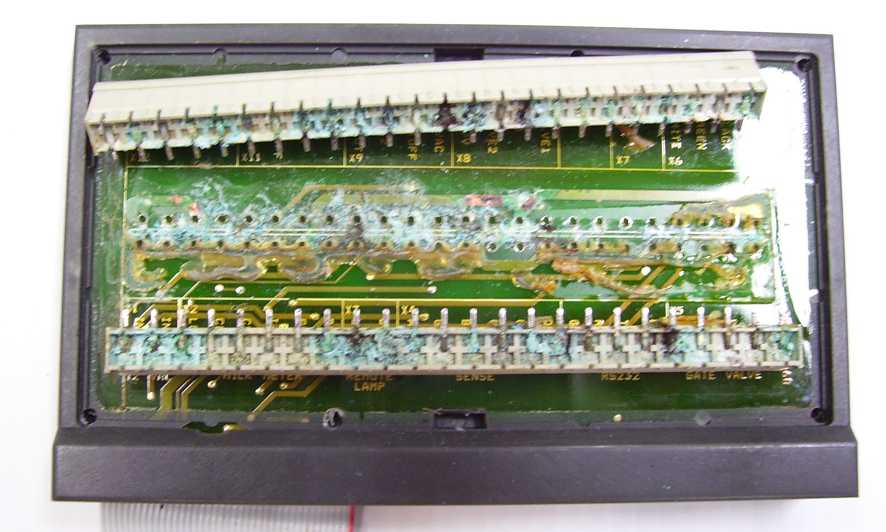 This one requires a bit of 'reconstructive surgery"



It's starting to look a little better here ... ready to be sealed ... and then have some new sockets fitted.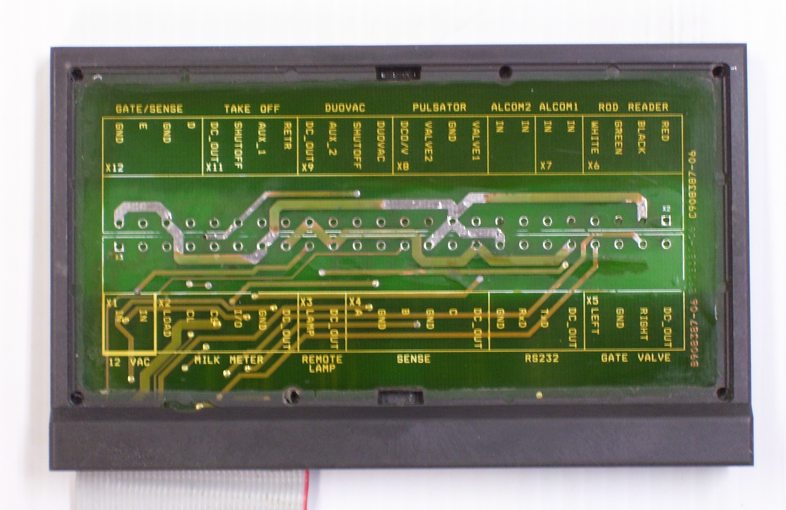 '
New sockets fitted and a new lease on life ... ready for action again.